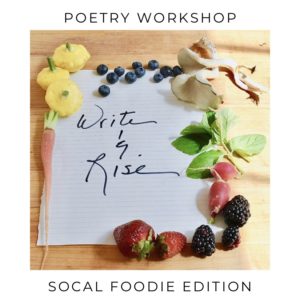 Award winning poet, Denise Walker, and I are hosting Denise's popular Write & Rise workshop with an extra twist, right here in Southern California! It's going to be an intimate literary and culinary experience like no other!  This is something she and I cooked up (pun intended) while brainstorming about upcoming comprehensive wellness retreats launching in the new year.  
We are so excited to bring you:  Write & Rise: SoCal Foodie Edition!
September 28, 11:00AM – 2:00PM
We'll start the morning with green juice shots and artichoke frittata,  toasted brioche bites. Then, Denise will lead us in a visualization meditation to get the creative juices flowing, and together we will write a series of poems using fresh California food & ingredients to stimulate our senses and inspire our work. 
Once our writing is complete, we will enjoy a lunch designed by me, using the same ingredients we crafted our poetry from! I'll be preparing salmon or vegetarian salad nicoise, followed by red, white and blueberry shortcake. 
No writing experience necessary, or even preferred! 😀
Snacks, alcohol free refreshments, & lunch included!
Contact: hello@denisewalkerspeaks.com
Denise: www.denisewalkerspeaks.com
Mimi: mimi@recoverybitesblog.com
www.instagram.com/recoverybitesblog
Use the sign up here for more information, and/or to be put on the waitlist for upcoming events!
Hope to see you here! xo