Welcome to Mimi's intro to detox!  First some thoughts on what I think is a manageable approach to detox in recovery. I've included a recipe for my Spring Cleaning Detox tea, and some good resources.  
Years ago I took a highly toxic drug called Accutane. I had been seeing a nutritionist. She was a German woman about 9 ft tall and she scared the shit out of me. She made it very clear she was disappointed. She put me on a detox plan which consisted of  a powdered medical supplement to be mixed with juice, and just that. I think it was a two or three week protocol. 
During this, I was talking to some friends at work and I joked, thank God I smoke. One friend said disgustedly, then whats the point? It infuriated me then, and still does.  It's that all or nothing attitude that keeps us stuck. "Im going to quit drinking, smoking, smoking pot, sugar, do yoga every day and run 25 miles a week!" So, if you can't do all of it, you do none of it. You can't convince me that's a winning approach. 
If you want to do a juice fast, or a medically supervised cleanse, I'm all for it.  When you're ready, by all means go for it, but it's not actually necessary.  I want to encourage you to remember that our bodies are self regulating and in a constant state of detoxification.  That said, if you live in the world and have been making less than healthy choices in terms of what you're ingesting, your body is in need of a little extra support and TLC.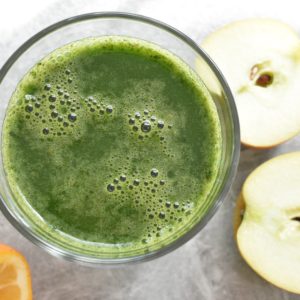 If I add fresh juices to my diet for 3 days, I'm not talking a juice fast, I'm talking just adding 2 juices to my regular diet, someone always tells me how good my skin looks. So, If it's showing on my face, imagine what it's doing to my insides! Juicing is really my number one suggestion to add to your diet. This is an easy way to get your green vegetables, it creates an alkaline environment in your body, and you will automatically crave healthier food. If you're like me, stringing together even three juice days can be as challenging as stringing together sober days! Both are so worth it. I have a juicer, but interestingly I can buy a 16oz juice from my health food store for less than it costs to make it at home. I can call it in and just go straight to the juice bar to pick it up in under 5 minutes. Probably for the same amount of money and effort as choosing a fancy coffee drink which will pick you up and then cause you to crash. 
Im not a fan of the green smoothie. It was actually my pain management doctor who got me juicing after my neck surgery. I was trying to choke down green smoothies and he said you can't absorb all the nutrients when your body has to work so hard to digest the fiber.  I said, but when you blend it, isn't it then pre-digested?  He said, no it's not enough. That's why cows have two stomachs!  A friend was telling me what she puts in her green smoothie. She began listing ingredients then took a breath and kept going. It must have been 15 things! This isn't going to hurt you, but you'll be wasting a lot of money because it's just not possible for your body to absorb all of it at once. Instead drink your green juice by itself on an empty stomach. This way the nutrients will pass easily into your blood stream, and nourish every cell in your body. Drinking juice on an empty stomach reduces the amount of energy your body uses for digestion, giving your cells a chance to repair and rebuild, and the live enzymes will give you instant and sustained energy.  
I'm not including juice recipes, but I can if you need some ideas. Just let me know in the comments section. What I will give you right now is what I think is a good guideline that I use: 3 parts vegetables to 1 part fruit. 
Another super easy addition to your detox support plan is Teaonic. The only thing I don't like about this product is that I didn't think of it myself! The "I Love My Liver" blend shares ingredients with  my "Spring Cleaning" detox tea and they have formulas for adrenals, gut and brain.  
Another step you can take right now is ditch your antiperspirant and replace it with a natural deodorant.  It has all kinds of nasty stuff in it you don't want absorbed into your body, but also perspiration is one of the ways your body eliminates water soluble toxins.  It'll take your body a little bit of time to adjust, but the benefits are worth a few smelly days. An additional benefit is that it's the anti-perspirant that causes stains on your shirts, not the sweat itself!
Water soluble toxins are processed by the liver and then eliminated through perspiration and also urine, so hydrate! A good rule of thumb is to drink as much water in ounces equalling 1/2 your body weight. 
Intro to Detox
Cuisine:
tea, detox, beverage, drink
Ingredients
2 cups Peppermint leaf
½ cup Nettle leaf
½ cup Dandelion
½ cup Yellow Dock Root
½ cup Milk Thistle
Instructions
Thoroughly mix all ingredients and place in a sealed container.
To prepare one cup:
Put 1 tsp tea in a tea bag or diffuser and add simmering water
Steep for 3-5 minutes.
Enjoy!
Fat soluble toxins (pesticides, metals, preservatives, food additives) require optimal bile flow to move through our bodies without overwhelming the liver. Eating a whole food diet with plenty of fiber offers much needed support to this process. I'll cover this in detox no. 2.