Ratatouille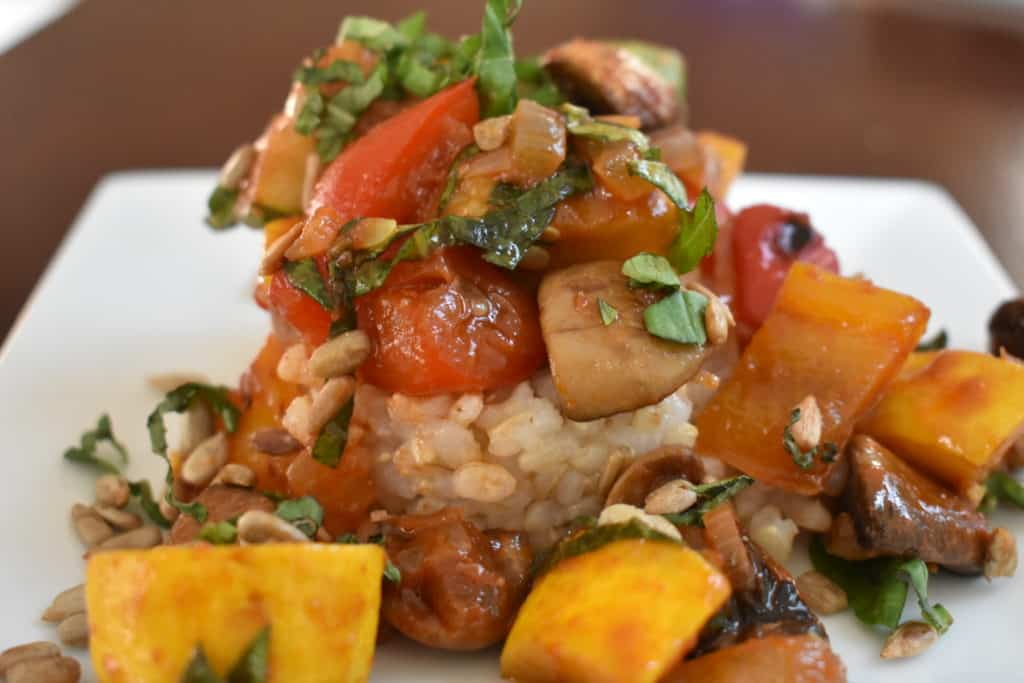 Recipe type:
Lunch, dinner, snack
4 cups zucchini (approximately 3 medium) cut into bite sized chunks
4 cups yellow squash (approximately 3 medium) cut into bite sized chunks
4 cups mushrooms, quartered
3 cups red bell pepper, stemmed and seeded, cut into bite sized pieces
2 cups onion (1 large) diced
3 cloves garlic, minced
4 Tbl Tomato paste
3 Tbl Chiffonade of basil. (Stack leaves, roll and thinly slice)
Toasted sunflower seeds, optional
Parmesan cheese, optional
1½ tsp salt, divided
Olive oil
Heat 1 Tbl (or more) olive oil in a large saute pan over medium high heat.
Add zucchini in a single layer and toss so oil coats vegetables.
Cook for for 2 minutes on one side until lightly browned, sprinkle liberally with salt, then toss until cooked through but still firm approximately 4-5 minutes. This will depend on the size of your chunks.
Remove zucchini and set aside.
Add another Tbl of oil to pan and cook yellow squash as you did the zucchini.
Remove squash and set aside
Add another Tbl of oil to pan and cook mushrooms in a single layer, 2 minutes on the first side, sprinkle liberally with salt and toss until tender. Approximately 2-3 minutes
Remove Mushrooms and set aside
Add more olive oil if necessary and add the red pepper chunks.
Cook, tossing occasionally for 8-10 minutes.
Remove red pepper and wipe out pan
Lower heat to medium low and add diced onion
Cook for approximately 5 minutes, tossing and stirring until transclucent.
Add garlic and cook for an additional 1 minute
Add tomato paste and stir into the onion and garlic until slightly darkened.
Add all the vegetables back to the pan, including any juices that have accumulated.
Increase heat to medium and toss until vegetables are lightly coated with tomato paste and heated through.
Remove from heat and mix through 2 Tbl of basil.
To serve, sprinkle with remaining basil and toasted sunflower seeds and grated parmesan.